[Chengxun] The Food Expo, organized by the Hong Kong Trade Development Council, took place on August 17 at the Hong Kong Convention and Exhibition Centre. Exhibitors and teams hailing from 24 countries and regions presented a worldwide culinary feast along with a fresh shopping encounter. Yiling Pharmaceutical, a drug manufacturer renowned for its Lianhua Qingwen capsules, marked its inaugural appearance as a collaborative exhibitor, capturing considerable public interest.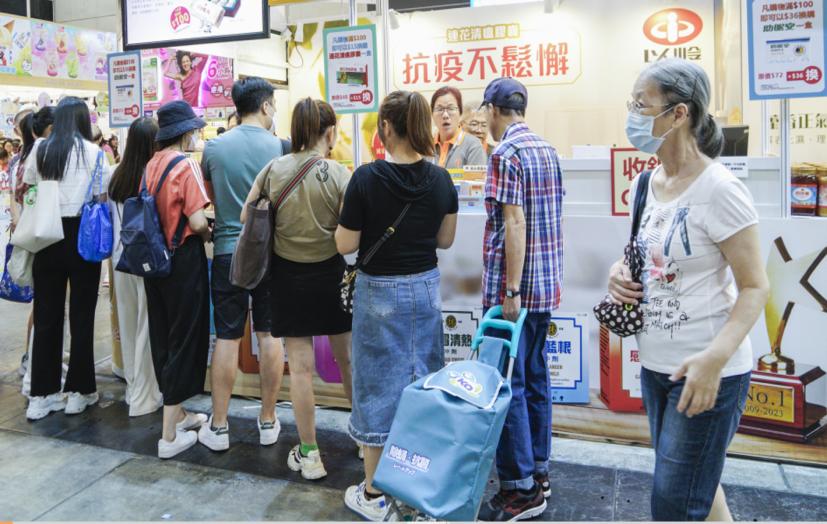 Since the emergence of the serious pandemic, Lianhua Qingwen capsules has evolved into indispensable household essentials, while Yiling Pharmaceutical's other offerings have started to attract considerable interest. With the gradual easing of the pandemic and drawing upon a rich history rooted in thousands of years of traditional Chinese medicine, Yiling Pharmaceutical is proactively broadening its health industry in response to the public's evolving health needs.
In the urban landscape, individuals frequently confront elevated stress levels and busy schedules, which commonly result in recurring battles with insomnia. Huang Weibin, the Sales Director of Yiling Pharmaceutical in Hong Kong, explained that the exhibited product, "SLEEP A", contains Ziziphi Spirosae Semen Oil, which can effectively extend slow-wave sleep, providing a solution for sleep issues faced by residents of Hong Kong. Slow-wave sleep directly affects the quality of sleep, and the dosage of Ziziphi Spirosae Semen Oil directly influences the effectiveness of sleep. As he pointed out, the content of Ziziphi Spirosae Semen in their product stands out as a leader among similar products in the local market.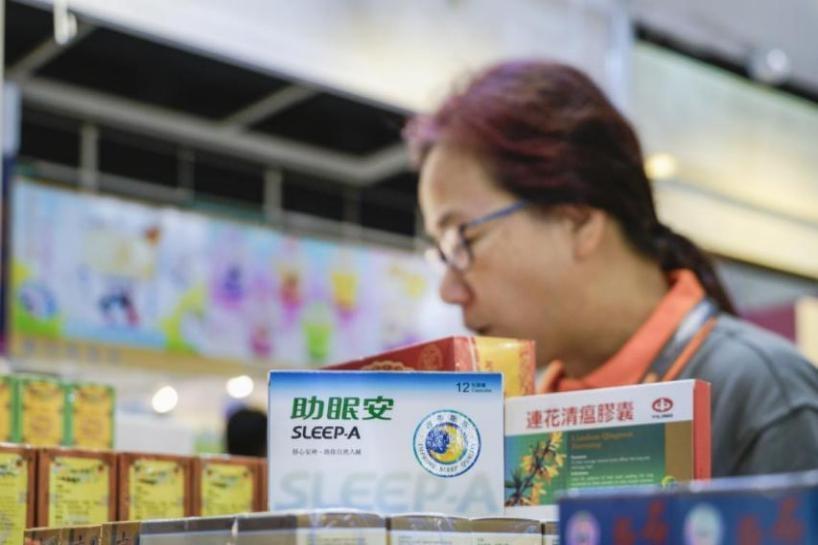 At the location, the reporter observed a diverse range of health products, spanning categories including anti-aging, blood enrichment, vitality enhancement, and immune strengthening. According to data, China's health industry is expected to reach a scale of RMB 17.4 trillion by 2025 and is projected to further expand to RMB 29.1 trillion by 2030, indicating an escalating demand for health-related products and services.
To cater to the Hong Kong market, Huang mentioned that they will gradually modify the flavors and packaging of additional health products, including offerings like Lianhua Qingfei Herbal Beverages, Bazi Bushen Capsules, Ganoderma Spore Oil Soft Capsules, as well as other anti-aging and functional products.
Yiling's staff also provided the reporter with insights into the forthcoming "Ganoderma Spore Oil Soft Capsules". These capsules utilize an innovative ultra-low temperature wall-breaking technique, extracting a mere 1 gram of Ganoderma Spore Oil from around 100 grams of high-quality Ganoderma lucidum. This assists consumers in boosting the activity of immune cells, contributing to the preservation of youthful bodily functions.
Health-consciousness is prevalent among Hong Kong residents, especially within the working class, who frequently opt for low-sugar products as a key aspect of their dietary choices. The new product, "Lianhua Qingfei Soothing Throat Lozenges", incorporates isomaltitol to refine the taste profile. Moreover, it maintains stable blood glucose and plasma insulin levels, rendering it a fitting option for individuals with diabetes. The Lianhua Qingfei Herbal Beverage offers a refreshing and sweet taste, delivering its benefits directly to the lungs. It is especially tailored for individuals who smoke or are exposed to secondhand smoke, effectively addressing symptoms such as persistent coughing, excess phlegm, and throat discomfort.
As it expands from the mainland to the Hong Kong market, Yiling Pharmaceutical envisions enhancing the growth of innovative traditional Chinese medicine and health products in the post-pandemic era. This strategic pursuit is set to establish itself as a pivotal contributor to public health in the upcoming 5 years.