April 16, the 10th Angiopathy Conference of Integrated Chinese and Western Medicine kicked off in Xi'an, China. Academicians of the Chinese Academy of Engineering (CAE) Zhang Yun, Chen Xiangmei, Wu Yiling and other authoritative Chinese and western medicine experts gathered to unfold in-depth academic exchanges around the latest progress and scientific research achievements of the Vessel Collateral Theory, a major theoretical original of TCM that guides the prevention and treatment of vascular diseases. At the Conference, Professor Eric D. Peterson from the University of Texas Southwestern Medical Center presented an academic report titled The Importance of Randomized Trials in Medicine.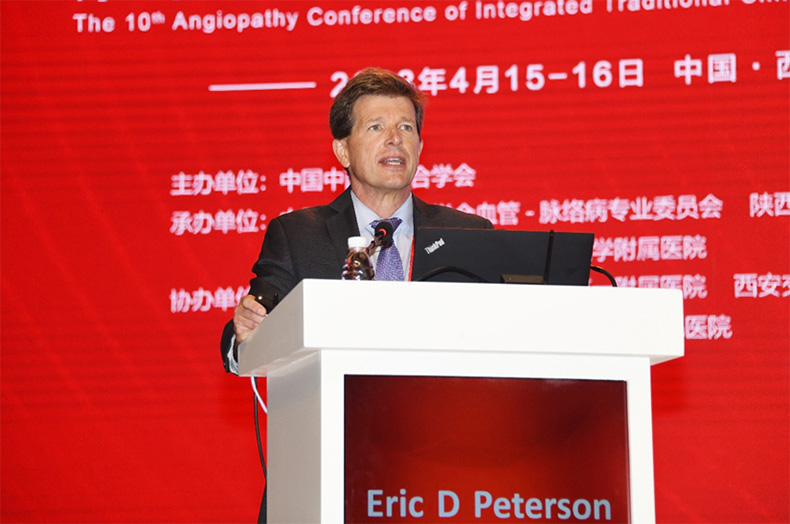 ▲Professor Eric Peterson delivered a keynote lecture
Professor Peterson stressed that the highest standard for clinical research is randomized controlled clinical trials, which employ large-scale, diverse, randomized, double-blind, and controlled methods to test the effectiveness and safety of drugs. Thus, such trial is more objective and fairer, and of considerable significance for the development of medicine.
The professor indicated that Tongxinluo Capsules is a compound traditional Chinese medicine (TCM) that has been extensively studied in animal experiments, in vitro experiments, and clinical trials, which have demonstrated its effectiveness in acute myocardial infarction. It can relieve myocardial no-reflow and reperfusion injury after acute myocardial infarction and reperfusion, and shrink the size of myocardial infarction.
He introduced his participation in the China Tongxinluo Study for myocardial protection in patients with Acute Myocardial Infarction (CTS-AMI). He underlined that this is a high-standard randomized, controlled, double-blind, multicenter clinical trial, coupled with a rigorous design process. The results verify that Tongxinluo Capsules is a very safe and effective drug that can significantly improve the clinical effectiveness in treating acute myocardial infarction of Chinese patients, especially in reducing cardiac death and serious complications. It is a ground-breaking study.
The CTS-AMI was led by Professor Yang Yuejin of Fuwai Hospital, CAMS & PUMC and its test results were reported in the latest and high-quality Scientific Sessions of the American Heart Association (AHA) 2022. AHA has officially reported that "Tongxinluo Capsules can improve the clinical prognosis of patients with ST segment elevation myocardial infarction (STEMI)"; Professor Kenneth W. Mahaffey of Stanford University School of Medicine indicates that a new era of treatment for acute myocardial infarction has been initiated; and Gao Runlin, an academician of CAE, expressed that "breakthroughs have been made in the field of acute myocardial infarction treatment, which is a milestone in the field of TCM research".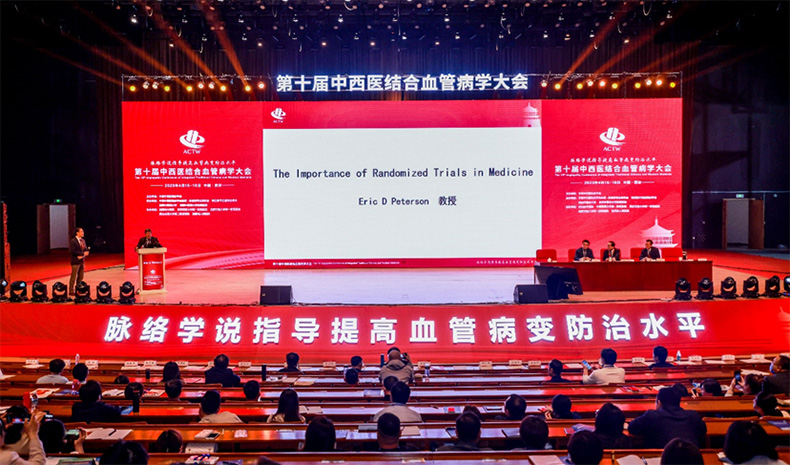 ▲Authoritative Chinese and Western Medicine Experts Gathered to Make Exchanges on the New Achievements in the Prevention and Treatment of Angiopathy
Professor Peterson also mentioned that TCM is extensively used, with TCM sales in the U.S. reaching USD 18.8 billion in 2021 and expected to reach USD 50.5 billion by 2030. He hopes that the research on the treatment of cardiovascular diseases with Tongxinluo Capsules can be promoted to more countries and that more cooperation can be made with Chinese experts in the field of TCM research in the future. Eric D. Peterson, M.D., M.P.H., is a Professor of Internal Medicine at UT Southwestern Medical Center and a member of its Cardiology Division. He serves as Vice Provost and Senior Associate Dean for Clinical Research and as Vice President for Health System Research and holds the UTSW Adelyn and Edmund M. Hoffman Distinguished Chair in Medical Science. Dr. Peterson is a longtime Associate Editor for the Journal of the American Medical Association and now serves on its editorial oversight board. He is also on the editorial board for Circulation and Circulation: Cardiovascular Quality and Outcomes, and he is an advisory board member for Nature Reviews Cardiology.