Recently, the National Agency for Food and Drug Administration and Control (NAFDAC) of Nigeria disclosed that the innovative patented traditional Chinese medicine (TCM), Shensong Yangxin Capsules, developed and produced by Yiling Pharmaceutical, has been granted registration in Nigeria under the category of "Herbal and Natural Medicines".
Shensong Yangxin Capsules can significantly alleviate clinical symptoms such as palpitations, shortness of breath, fatigue, insomnia, and dreaminess.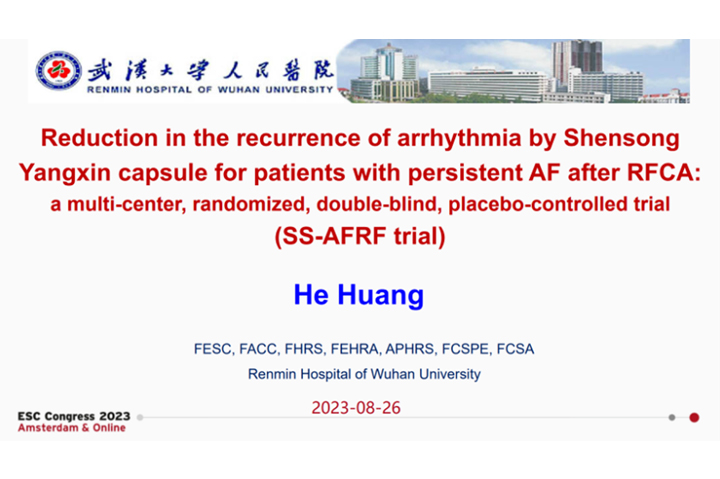 The results of the study titled "A Multicenter, Randomized, Double-Blind, Placebo-Controlled Clinical Study of Shensong Yangxin Capsules on the Prognosis of Atrial Fibrillation Patients after Radiofrequency Ablation" were disclosed at the European Society of Cardiology Congress in August.
In August of this year, at the European Society of Cardiology Congress, a top-tier international academic conference in the field of cardiovascular medicine, the latest study results from Prof. He Huang's team at Wuhan University People's Hospital in China were disclosed. The results showed that the addition of Shensong Yangxin Capsules to standard of care could reduce the risk of atrial fibrillation recurrence within one year by about 40%, significantly improve patients' health-related Quality of life (QoL) scores and demonstrate excellent safety. This study provides a brand new treatment strategy for the prognosis of atrial fibrillation patients after radiofrequency ablation.
A number of evidence-based medical studies have confirmed that Shensong Yangxin Capsules can effectively treat fast arrhythmia such as premature beats and paroxysmal atrial fibrillation; increase the slow heart rate to treat slow arrhythmia; and effectively treat complex arrhythmia such as heart failure with premature beats and sinus bradycardia with premature ventricular beats, filling the gap of drugs for both tachyarrhythmia and bradycardia at home and abroad. The "Construction of Traditional Chinese Medicine Collateral Theory and Its Guidance on Preventing and Treating Microvascular Lesions" project, which includes important studies related to Shensong Yangxin Capsules, was awarded the sole First Prize for National Science and Technology Progress in the field of life sciences in 2019.
As of now, Yiling Pharmaceutical has received approval for six innovative patented traditional Chinese medicines to enter Nigeria, including Lianhua Qingwen Capsules, Tongxinluo Capsules, Qili Qiangxin Capsules, Bazi Bushen Capsules, Lianhua Qingke Tablets, and Shensong Yangxin Capsules.