---
Lianhua Bacteriostatic Hand Cream
---
---
[Function] Nourish and repair hand skin, and quickly inhibit bacteria
[Applicable to] People who need nourish and repair hand skin and also inhibit bacteria on hands within families and public places.
[Specification] 45g / tube* 240 tubes / box
[Main ingredients] Water, glycerin, avocado fruit fat, allantoin, tocopherol acetate, phytosterol oleate, sodium hyaluronate, lonicerae japonicae flos extract, forsythiae fructus extract, hydrolyzed wheat protein, β-glucan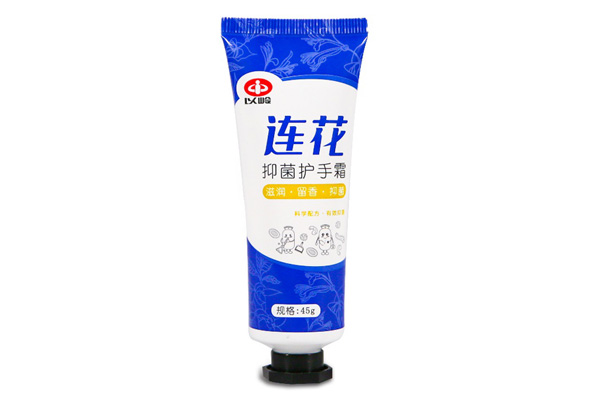 Features
Product advantages
● Extracts from eight kinds of Chinese herbal ingredients such as Forsythiae Fructus, Lonicerae Japonicae Flos, Prunella Vulgaris, and Fructus Cnidii are added to provide safer bacteriostasis.
● Long-term bacteriostatic effect: Compared with ordinary hand cream, the addition of bacteriostatic components of traditional Chinese medicine brings more sustained bacteriostatic effect by forming bacteriostatic protective film on hands and killing 99.9% of bacteria like Staphylococcus aureus, Escherichia coli.
● Moisturizing and moistening skin: The special addition of avocado extract – avocado fruit butter leads to better effect of moisturizing and moistening hands.