---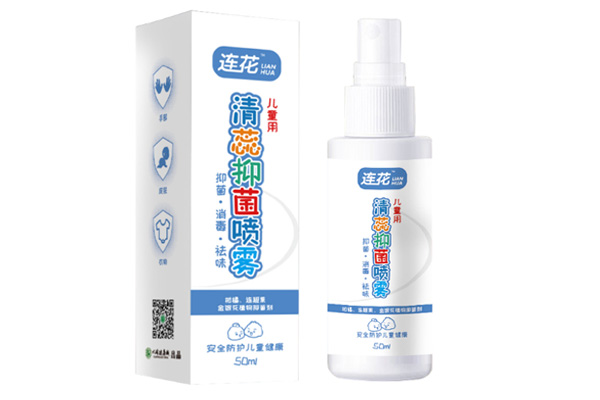 Features
● Chinese herbal extracts from Forsythiae Fructus and Lonicerae Japonicae Flos are added to provide safer and more effective bacteriostasis.
● The main components Benzalkonium Chloride, and extracts from citrus and Rhododendron (o-Cymene-5-OL) provide safer bacteriostasis with no irritation.
● Kill 99.9% of pathogenic bacteria like Staphylococcus aureus and Escherichia coli.
● Safe direct spray: Products are sprayed directly on the body for fast disinfection and bacteriostasis.
● Dispel unpleasant odor with lasting fresh citrus fragrance.
Lianhua Bacteriostatic Spray for Children – Core Ingredients
Citrus extract
● Natural plant bacteriostatic agent
● Antibacterial, anti-oxidation, detumescent, etc.
o-Cymene-5-OL
● The active ingredient of Rhododendron sphaeroblastum (Ericaceae)
● Excellent bactericidal, antibacterial, antiseptic and dispersive properties
Forsythiae Fructus extract
● Natural plant bacteriostatic agent
● Chlorogenic acid, luteolin and others for anti- inflammatory, anti -bacterial, and anti-oxidation effects
Lonicerae Japonicae Flos extract
● Natural plant bacteriostatic agent
● Forsythioside in Folium Forsythia has a good therapeutic effect on chronic inflammation
Benzalkonium Chloride
● Broad-spectrum fungicide
● Currently used in sprays, eye drops and so on
Lianhua Bacteriostatic Spray for Children – Usage Scenarios
| | | |
| --- | --- | --- |
| Before going to school | Before playing toys | Before eating |
| Before taking a bus | When playing outdoors | For wound disinfection |