---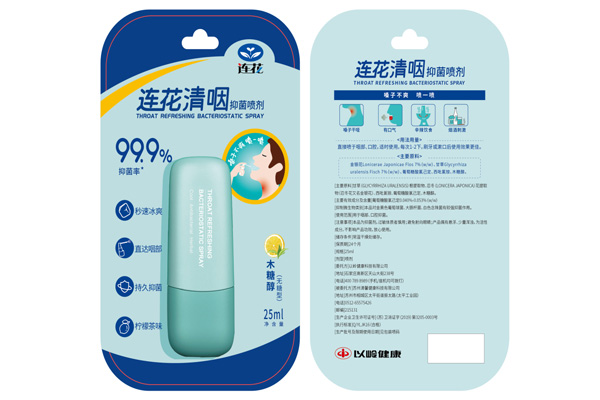 Features
● The aerosol herbal original solution is gas-atomized into micro-dew, which can reach pharyngeal mucosa directly for efficient and fast absorption.
● The original solution of honeysuckle, green tea and licorice is extracted with the wall-breaking technology by means of continuous low-temperature micro jet to fully retain the active components of bacteriostatic and anti-inflammatory small molecules.
● The selected oropharyngeal targeted cooling agent can directly act on pharynx and mouth, and combines pure herbal green-tea taste and lemon fruit flavor.
● Lianhua Qingyan Bacteriostatic Spray, as a product of disinfection category, can effectively inhibit bacteria and has excellent performance in relieving general pharynx discomfort.
Lianhua Throat Refreshing Bacteriostatic Spray – Function Details
| | | |
| --- | --- | --- |
| | | |
| Herbal raw materials: The original solution of honeysuckle, green tea and licorice is extracted with the wall-breaking technology and combined multi-stage membrane concentration and separation by means of continuous low-temperature micro jet to fully retain the active components of bacteriostatic and anti-inflammatory small molecules. The aerosol herbal original solution is gas-atomized into micro-dew by means of spraying agent, which can reach pharyngeal mucosa directly for efficient and fast absorption. | Soothing and bacteriostasis: Pharynx is the door of the stomach and throat is the door of the lung. Under the guidance of the theory of collateral diseases for pharynx and throat, honeysuckle, green tea and licorice are used together, with sweet taste and cold nature, to directly enter into the three meridians of heart, lung and stomach, clear and nourish pharynx and throat, and clear heart and eliminate annoyance; cooperate with polylysine, an oropharyngeal bacteriostatic disinfectant to directly and quickly remove pharyngeal bacteria and viruses; and help to alleviate oropharyngeal discomfort and irritability after repeated use. It has strong inhibitory effect on Staphylococcus aureus and other pathogenic bacteria, with a bacteriostasis rate of ≥ 99.9%. | Immediate sense of coolness: Selected oropharyngeal targeted cooling agent with an appropriate proportion can directly act on pharynx and oral cavity, to immediately relieve throat discomfort, and suddenly generate cool breath and comfortable breathing. |